The Flathead County Fairground shopping center building was buzzing with activity early Saturday morning as local 4-H and FFA students were busy preparing steers, hogs and lambs for cattle sale of the market.
While students, instructors, organizers, volunteers, parents and other supporters worked on the sale for months, no one planned to break the sales and buyer's records for another consecutive year.
By the end of the event, a record 255 unique buyers had registered and a total of $ 797,236.50 was raised, a 24% increase over last year's total sales. The students who raise each animal keep all the money they make from the sale, and many use the money to buy an animal for the next year or open a savings account.
Starting the sale of 252 animals in total, Dillon Jewett sold her Grand Champion steer to Super 1 Foods for $ 7.50 a pound, and Ella Rauch sold her reserve champion steer to Les Schwab Tire Center for $ 5 a pound. delivered.
In the hog category, Kinzey Davis sold her grand champion hog to Corwin Auto Group for $ 13.25 a pound, and Emily Lockhart sold her reserve champion hog for $ 10.75 a pound to McDonald's of the Flathead.
To close the sale, reigning 2020 Grand Champion Bailey Lake sold her 2021 lamb to Sargent Transportation for $ 21 a pound and Reserve Champion Emma Brist sold her lamb to Schellinger Construction Co. for 20.25 $ per pound.
New this year, the market cattle sale was conducted in a hybrid format, with live fairground auctions and live online auctions. Among those bidding in person, many of the successful buyers were able to meet the students who raised each animal and learn more about their experiences.
"After I put my lamb back in its pen, I have to thank my buyer," said Bella Moran, a sixth-grade Somers student who sold her lamb to Murdoch's Ranch and Home Supply in Kalispell. "We put together a thank you pack that contained a note, coffee card, treats and other things."
Bella has also reached out to almost every other buyer at the booth who has bid on her lamb, hoping to foster a relationship with them to have another successful sale next year.
The annual sale has been hosted by the FFA, 4-H, Northwest Montana Fair and the Kalispell Chamber of Commerce for over 45 years.
Kate Lufkin is Director of Education and Workforce for the Kalispell Chamber of Commerce.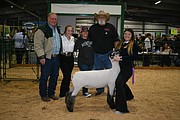 Source link